JetBrains Academy is an educational platform for future professionals with the opportunity to learn theory and to practice by programming working applications. JetBrains Academy is equally suitable for complete beginners who have never tried programming and experienced developers who are looking to advance their knowledge or learn a different language.
How to start
To start, go to the Subscription page and click Start your subscription under the Organizational subscription option. From there, you will be taken to the eStore page. Fill out the information and proceed with checkout.
The organizational subscription currently includes annual access for 1 owner account and 3 organization member accounts (with the option to add more members).
Currently available features and how to use them
The information about your subscription is shown on the Subscription page. There you can see the status and the type of subscription, the organization name, and the next payment date.
The Organization members list includes all the current members included in the subscription plan. You can change the name of the organization at any point by clicking the pen icon beside it.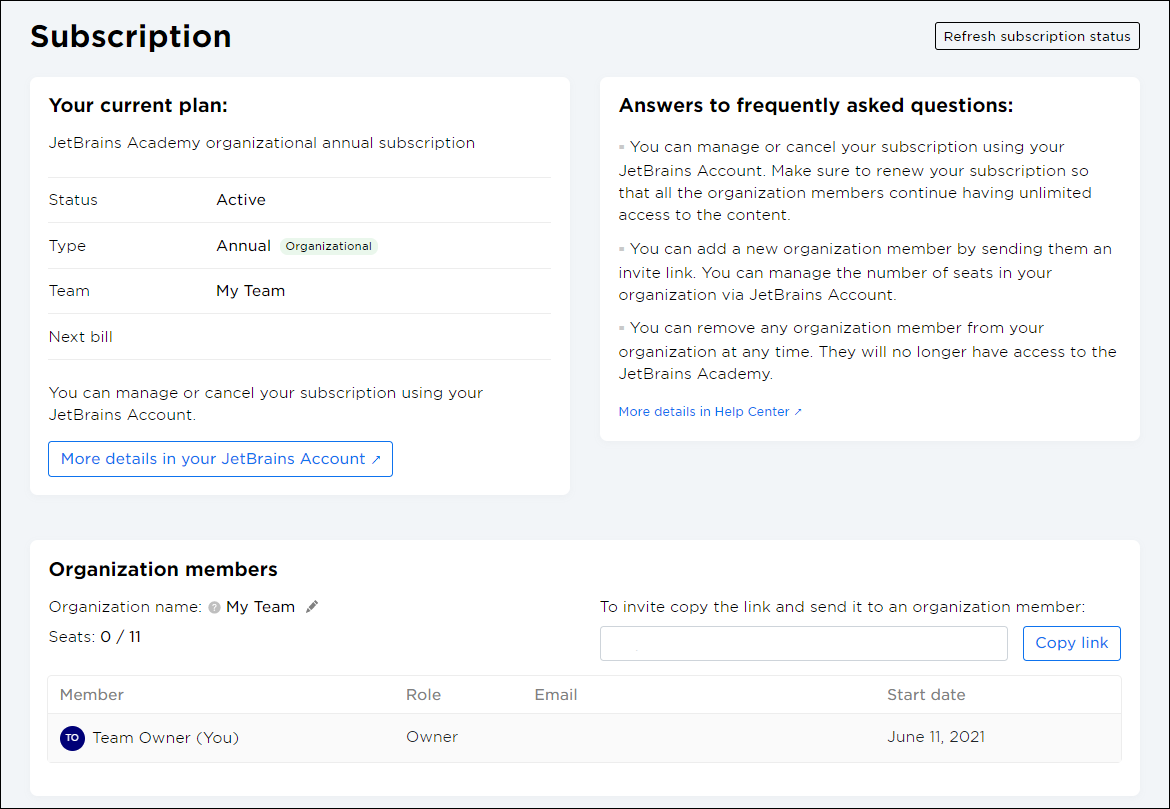 To add a new organization member, use the invitation link in the upper right corner of the list. When following the link, the organization member will be asked to register at JetBrains Academy or join with an existing account.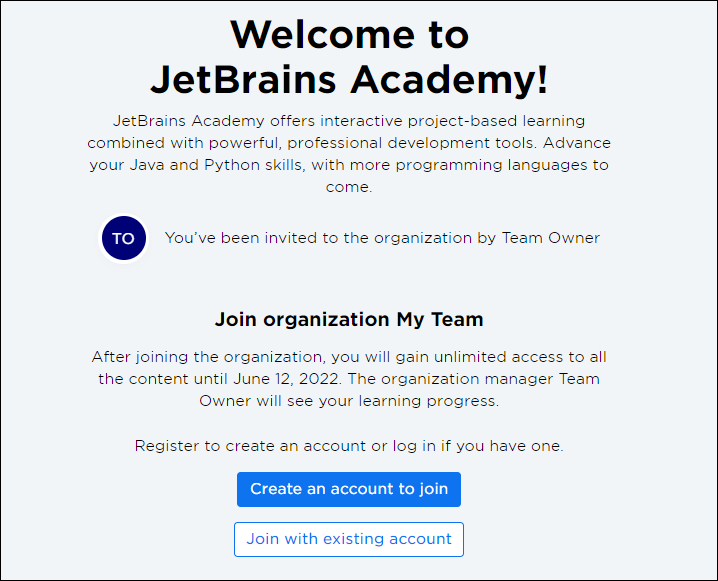 To remove an organization member

, simply click the "X" button to the right of the member's information in the list. A removed organization member immediately loses unlimited access to JetBrains Academy.

You can

increase the number of available members

on the

Licenses page

in your JetBrains profile. Select the JetBrains Academy for Organizations license from the list and click

Add more users

. Fill out the number of users you'd like to add to your subscription and proceed with the checkout.

Features that will be added in the future releases
Various activity dashboards and grade books

showcasing the general organization statistics (most popular tracks, organization activity, etc.) as well as individual progress for each organization member.

Single sign-on (SSO) options

.

An option to add more organization owners to the subscription plan (right now, only one profile is selected as an organization owner).