To start with Hyperskill for Organizations, go to the Subscription page and click Start your subscription under the Organizational subscription option. From there, you will be taken to the eStore page. Fill out the information and proceed with checkout.
Please note that the owner of the Organization will be the account associated with the email address you provide during the subscription payment. It is not possible to change the Organization owner.
Additionally, we can't transfer the Organization subscription to another account.

The organizational subscription currently includes annual access for 1 owner account and 1 organization member accounts (with the option to add more members). You can rotate organization members an unlimited number of times within the subscription period.
Your Organization's dashboard
We are glad to introduce your Organization's dashboard: a convenient way to manage your Organization and track its progress.
Right at the top of the page, you can check the seats available and increase the number if needed by clicking Add new seats. In addition, you can check the subscription state and see the overall number of active, pending, and inactive members.

The Member's activity tab displays all past and present members of your Organization. Within this tab, you can find each member's learning progress and the last activity date. In addition, the overall statistics for your Organization are provided.

By switching to the Members tab, you can find more information about your Organization's members. Specifically, you can check their subscription start date and its status. The status can be Active, Pending (if they have not verified their email yet, or if there are no more seats available), and Inactive (if they were removed from the Organization or left it themselves).

How can I manage my Organization?

To add a new organization member, click the Invite button on the Organization's page. You can use the invitation link or invite by email. The new organization member will be asked to register at Hyperskill or join with an existing account.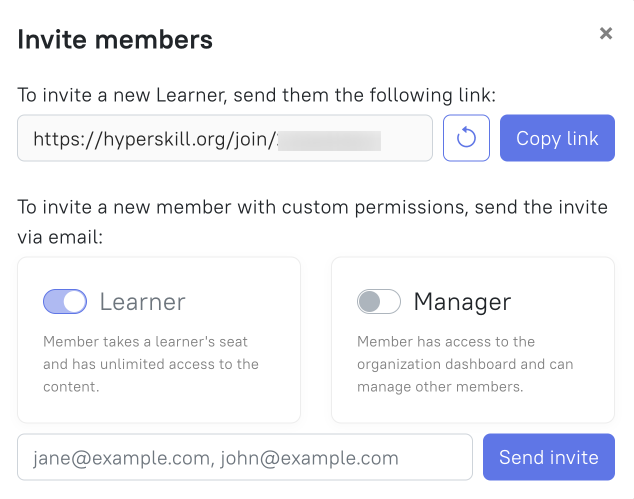 To remove an organization member, simply choose the remove option to the right of the member's information on the list. This member immediately loses unlimited access to Hyperskill.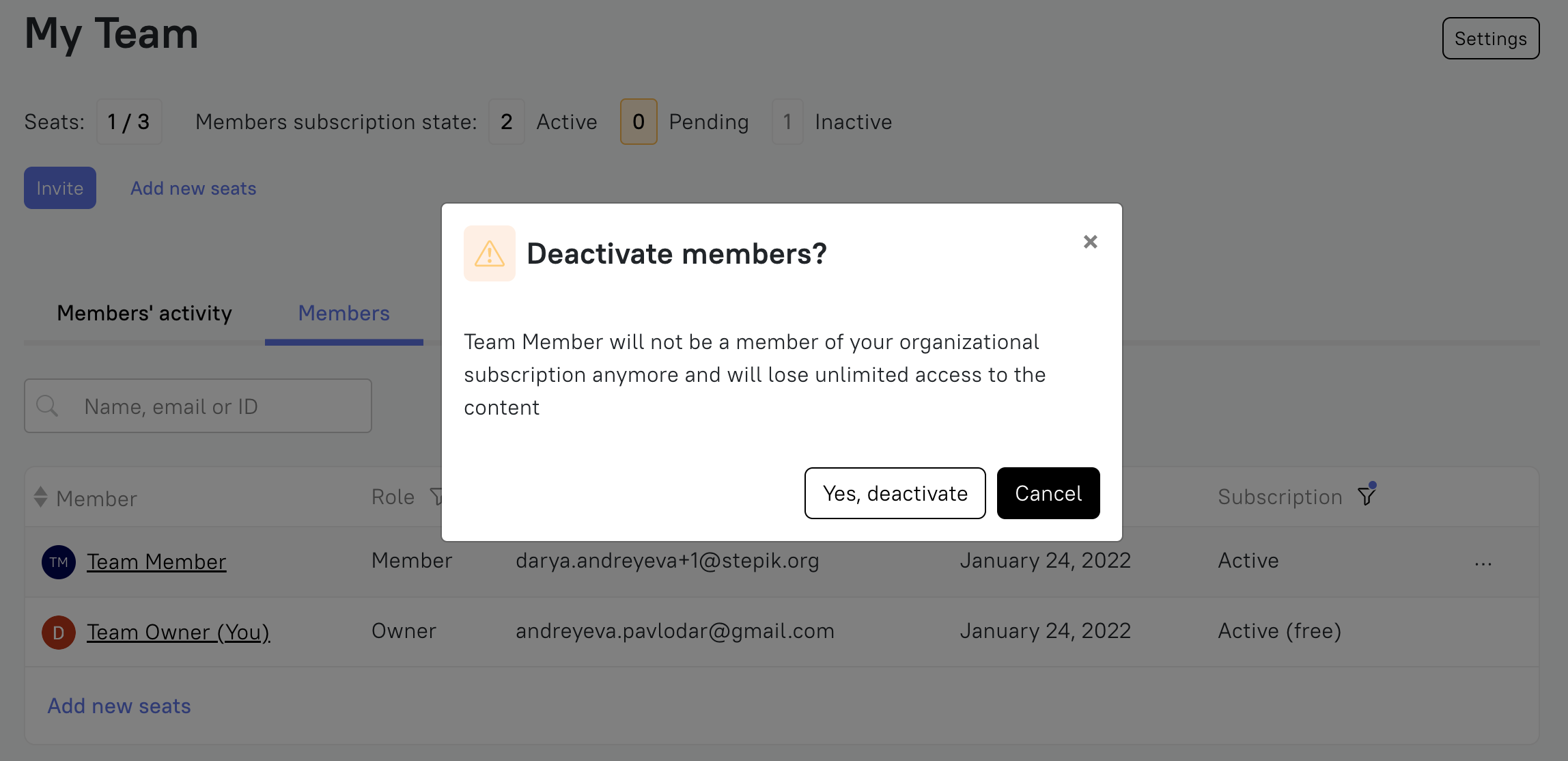 You can increase the number of members by increasing the available seats. To do so, click on Add new seats at the top of the Organization's dashboard. You will be forwarded to the licenses page, where you can manage your Hyperskill subscription.
Single sign-on authorization
Now you can add the domain to your Organization to allow single sign-on authorization for your members. On the Organization page, go to Settings and specify your Organization's domain. This way, new members will automatically join your Organization using their work emails with the set domain.