To apply a promo code:
Start by selecting a subscription plan on the Hyperskill pricing page.
On the Stripe payment page, you'll notice a field labeled "Add promotion code." This is where you'll enter the code you have.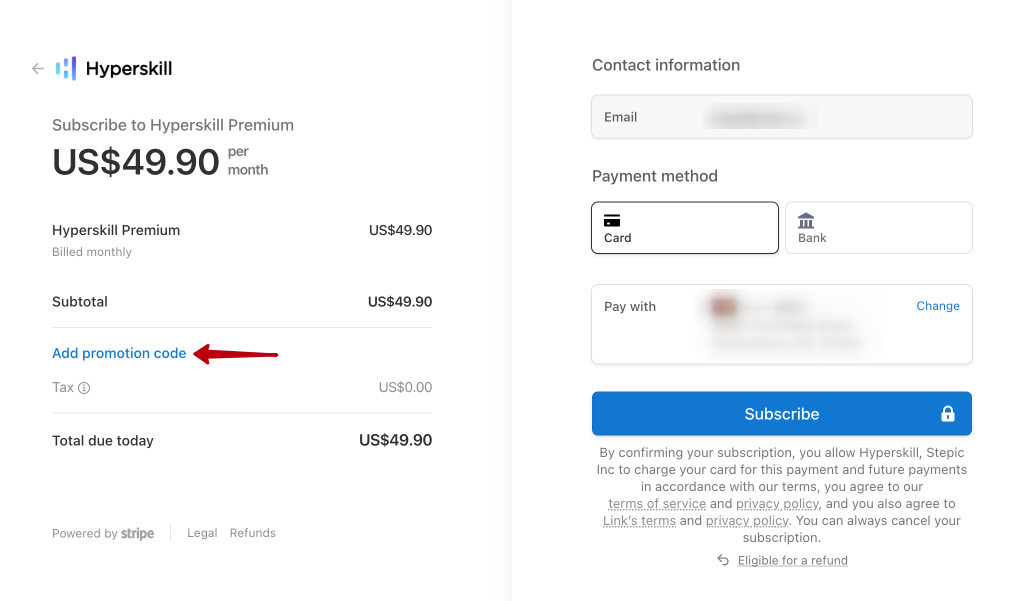 Input the promo code exactly as provided, including any capitalization or numbers, or special characters. Avoid spaces before or after the code.
After entering the code, click on the "Apply" button next to the field.
Once the promo code is successfully applied, the system will verify its validity and automatically adjust the total payment amount. You'll see the discount reflected in the updated payment details.
Important Notes:
Promo codes typically have expiration dates and usage limits. Ensure that the promo code is valid and within its usage period before applying it.
Promo codes are case-sensitive, so make sure to enter them exactly as provided.
Some promo codes may be applicable only to a specific subscription plan. Be sure to check the conditions of the promo code you are using.
If you encounter any issues while applying a promo code or completing the payment, feel free to reach out to our customer support for assistance.